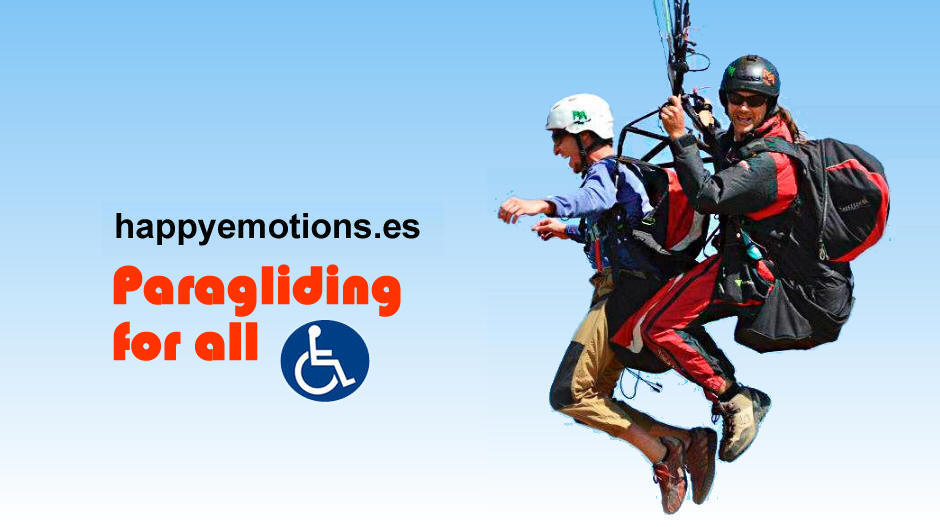 ABOUT US
What is Happy Emotions (HE)?

Happy Emotions is a sports company that operates in the Sierra Nevada in Granada and in the Picos de Europa, in Potes, Cantabria.
HE has experienced professionals and graduates from the Royal Spanish Federation of Aeronautical Sports with more than 25 years experience in the sector. They are passionate about what they do and with them you can enjoy one of the greatest experiences of your life.

PARAGLIDING!

An experience that will fill you with energy and will give you an amazing feeling of freedom.

Our activities are aimed at all audiences. It does not matter how old you are, as long as your physical and psychological capabilities allow it you can fly with us. We can fly with children as young as 5 years old, with their parents authorization, and all other ages up to the elderly. In addition, at Happy Emotions we have more than 20 years of experience specializing in flights with people who have some type of physical, cognitive or sensory disability (visual or auditory), allowing them to enjoy sport in nature and the outdoors with total safety. With us you can all come together and enjoy an unforgettable day.

There are no barriers. If you want to you can!

What matters to us most is your safety and well-being. We like to treat people well and to make them feel safe, so safe that they will feel that it isnít their first time flying.

We take care of everything, from the equipment to carrying out the activity, as well as the transport to the take off point where you will do your tandem paragliding flight. We have civil liability insurance and official qualifications.
TITLE AND CR INSURANCE WE HAVE:
If what you want is to give a gift, at Happy Emotions we will provide you with a gift voucher so that all you have to do is print it out. Itís that easy. Do not hesitate, you will surprise everyone. You just have to tell us and we will keep the secret for you until the last moment.

GET INFORMED AND YOU WILL SEE HOW YOU WILL ENJOY A WONDERFUL DAY

Activities we organize:

- Tandem paragliding flights for the disabled.
- Tandem paragliding flights.
- Paragliding courses for the disabled.
- Paragliding courses.
- Guided paragliding flights for inexperienced pilots.

SKIING

- Ski courses and classes for people with some kind of disability.
- Training courses for adapted ski teachers.
- Ski courses and classes.
- Free Ride courses and classes.
- Courses and Telemark classes.
- Snowboard courses and clases

Where we work

We work in two provinces of Spain:

* SIERRA NEVADA - GRANADA, where we do tandem paragliding and skiing.
* POTES - PICOS DE EUROPA (CANTABRIA), where we do tandem paragliding.

Granada coordinates: longitude: 37.03, latitude: -3.23
Coordinates of Potes, Picos de Europa (Cantabria): longi: 43.15 Latitude: -4.61
ATERRIZAJE DE CENES - GRANADA
DESPEGUE DE POTES - PICOS DE EUROPA

IF YOU NEED
SOMETHING SPECIFIC?
WE CAN TALK TO YOU
Experience, professionalism, advice where we take all security measures to carry out your activity.